The venue has 27 single beds sharing rooms (2-4 people per room) and there are 2 more sleeper couches. If you only want to be 2 people per room. 18 - 20 people can be accommodated, with 9 en-suite bathrooms.
We have a selection DSTV channels for your enjoyment in the main house as well as all the Chalets

All beds are single beds and we can also manage to make king size beds on request.
All the rooms have en -suite bathrooms.
Air-conditioning in all the bedrooms.

Please remember to bring your own towels if possible or arrange with me if you would need towels. Any lost or damaged towels will be charged at R300-00 per towel.

The lodge is spacious, elegantly decorated, clean and neat, with cleaning services daily except on Sundays and public holidays. Vast open spaces and a swimming pool, a dam and also an entertainment area, where you can sit and relax, perhaps play a little darts, table tennis games or pool.

We have a braai boma situated next to the main house, for the whole group. Also all the chalets have built-in braai's.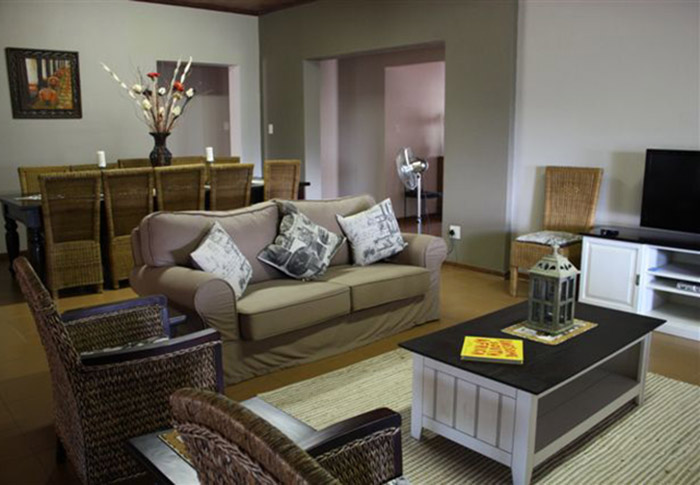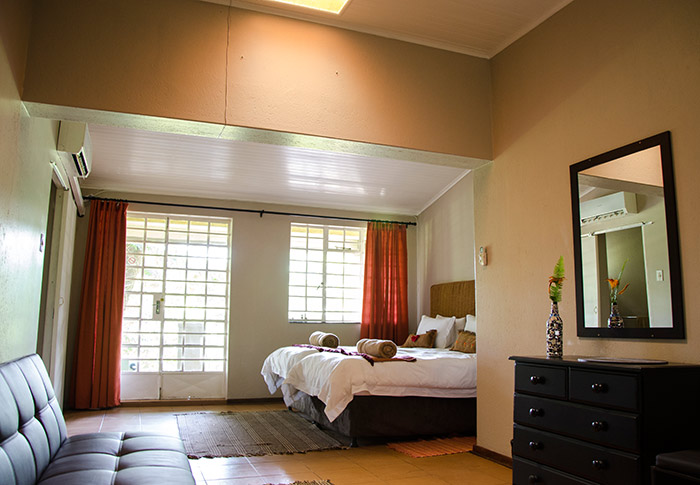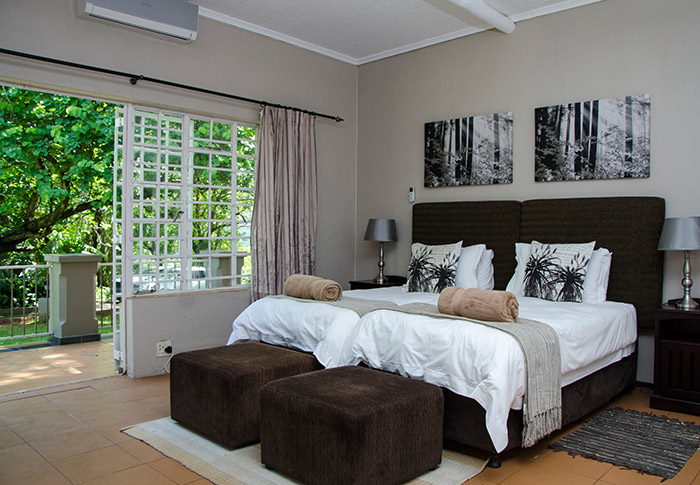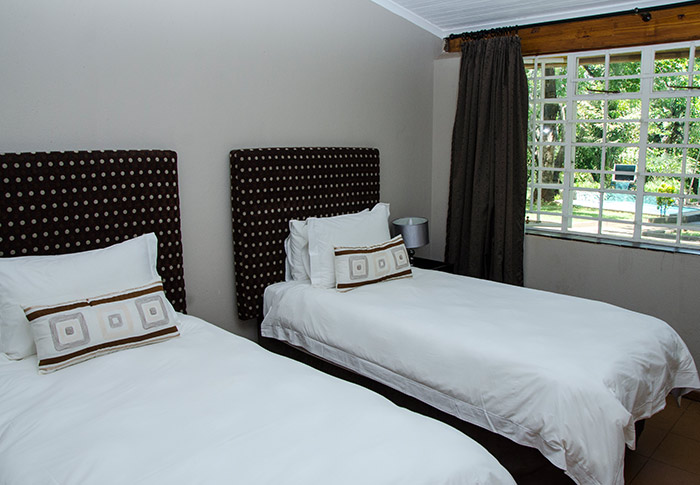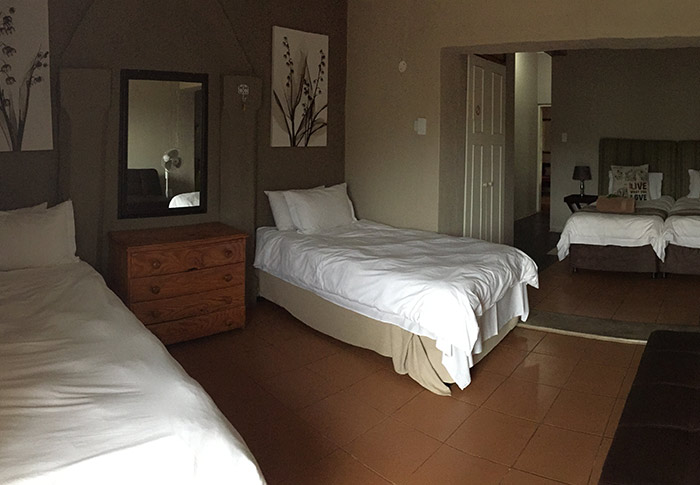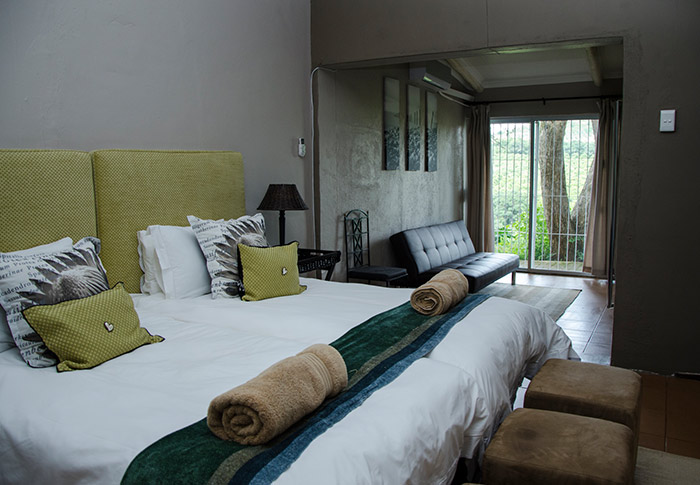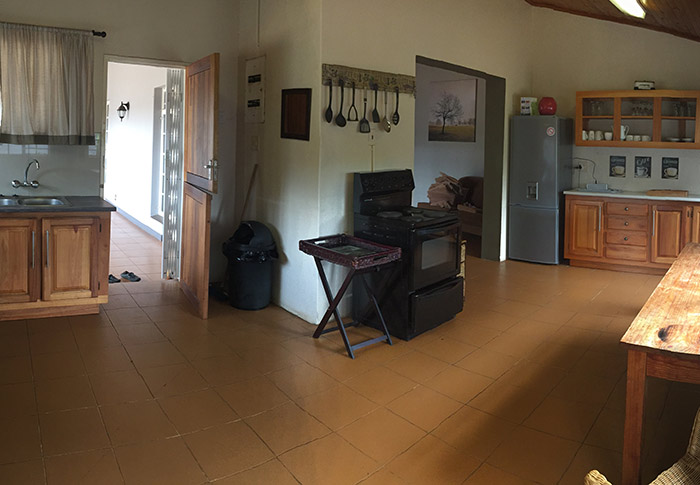 Main House
The Main house has 4 bedrooms, with 4 en -suite bathrooms. This is a full house with a kitchen, 2 dining rooms, and a sitting lounge, with a fireplace and a tv- lounge area. An outside boma braai area. (Sleep max. 13 sharing)
Room 1: Sleep 4 persons family room. ( With a door separating the beds. 2 per room), but they do share the same en-suite bathroom.
Room 2: Sleep 2 persons + 1 sleeper couch if needed + en-suite bathroom
Room 3: Sleep 4 persons + en-suite bathroom
Room 4: Sleep 2 persons + 1 sleeper couch if needed + en-suite bathroom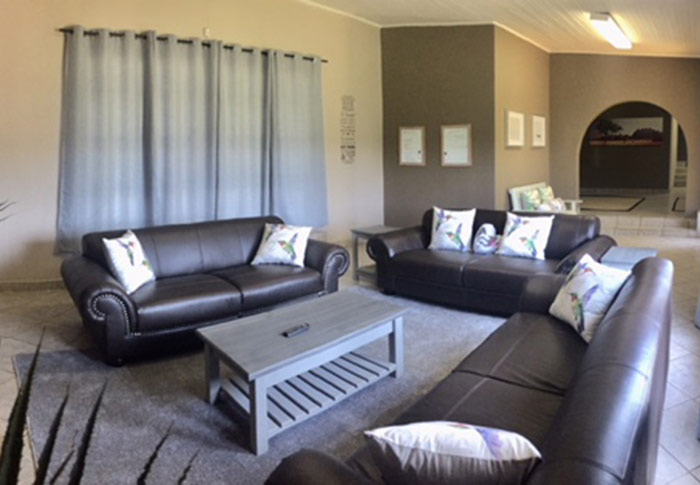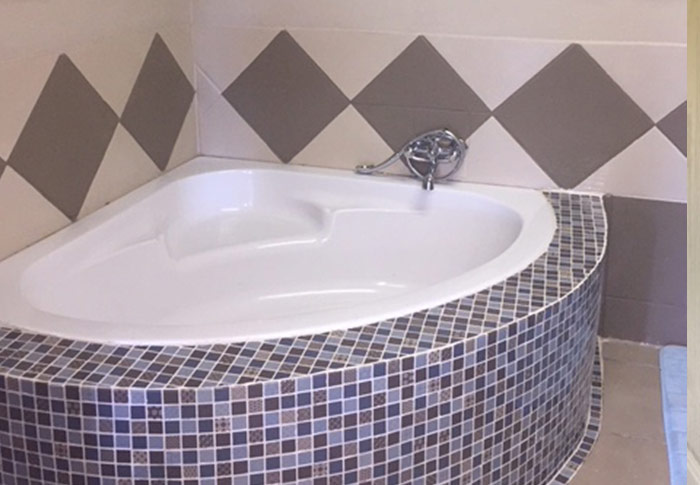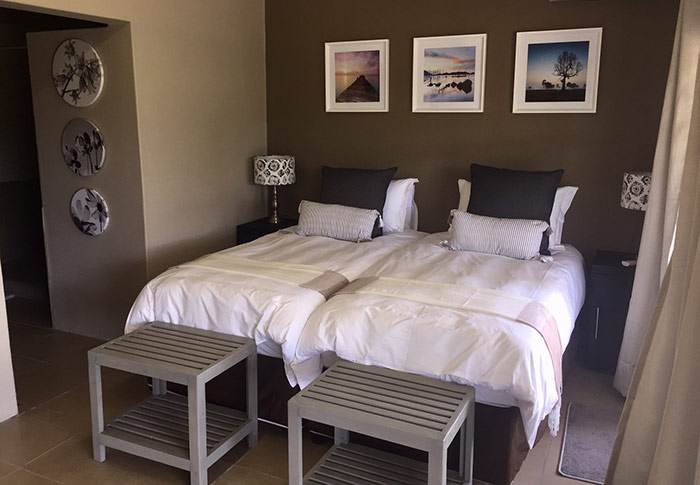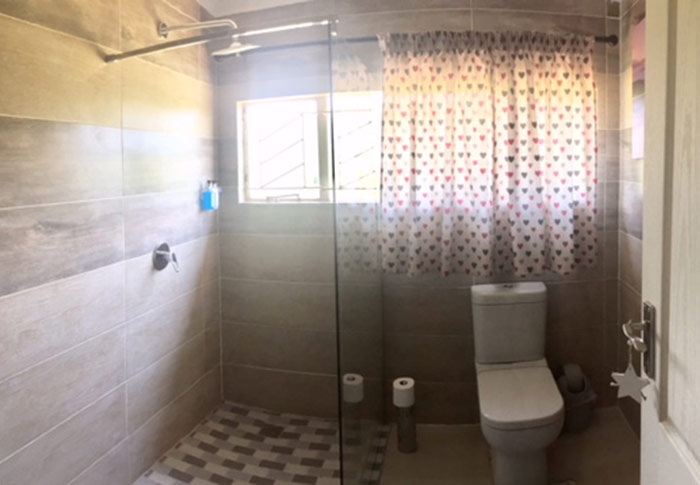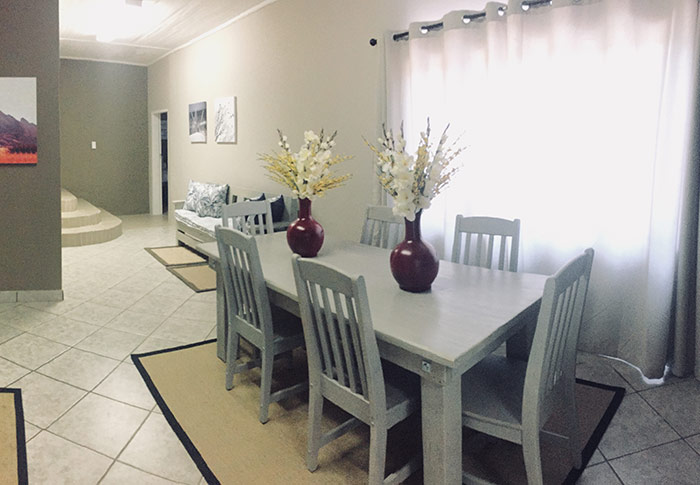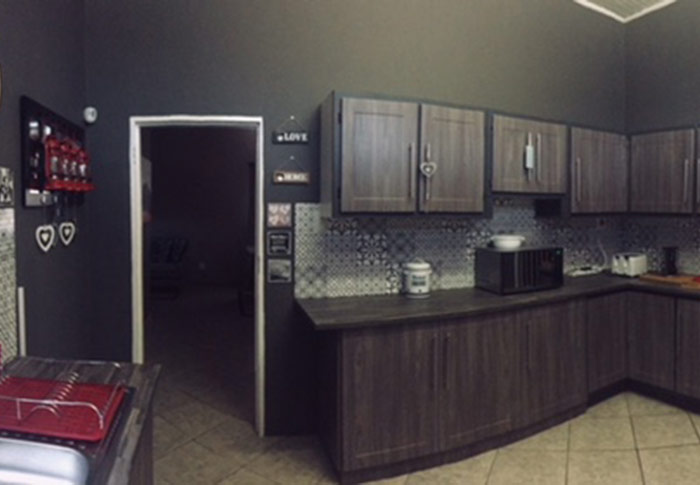 Main House 2
This is a 3 bedroom, 2 bathroom house, with a full Kitchen, Lounge / Tv room, Dining room, Air conditioning in all 3 bedrooms. A private boma braai area and a patio with a build-in braai / fireplace. Selection Dstv channels. (Sleep max. 6 single beds)
Room 1: Sleep 2 persons
Room 2: Sleep 2 persons
Room 3: Sleep 2 persons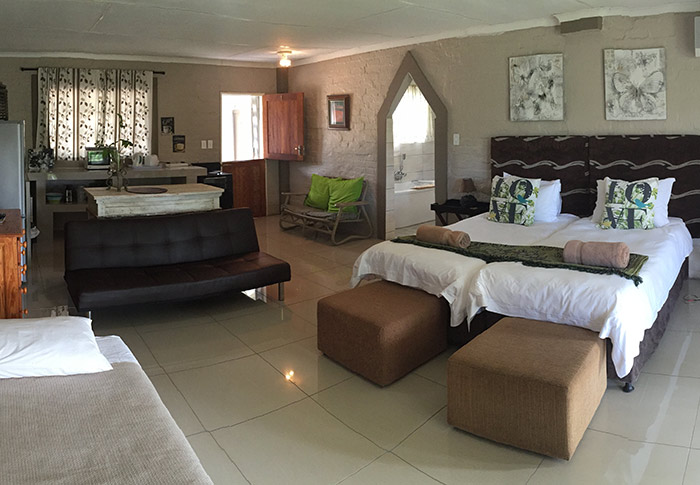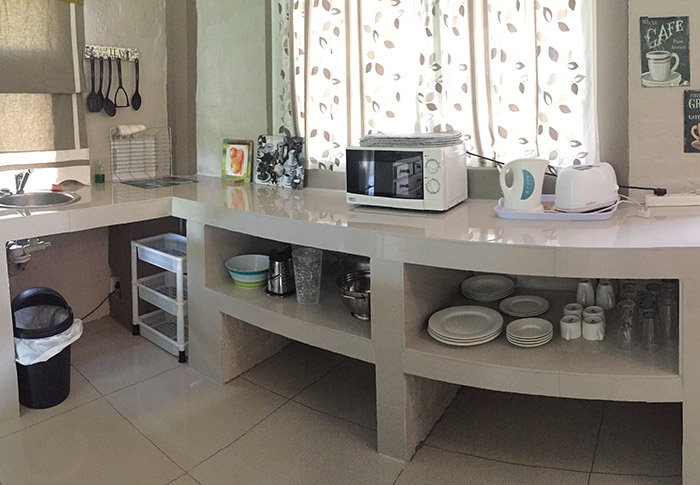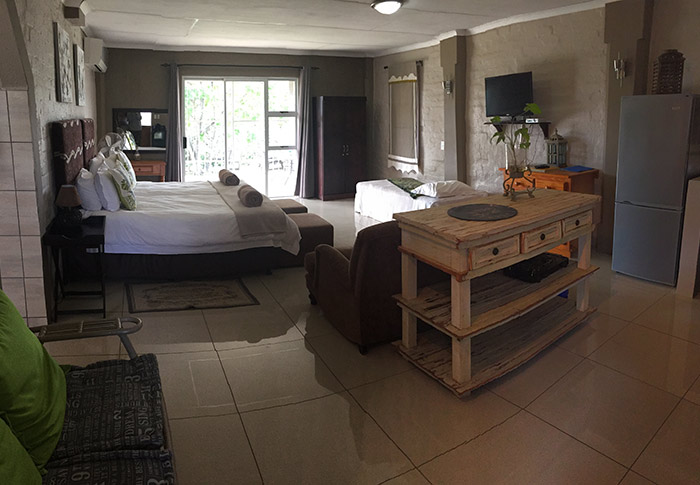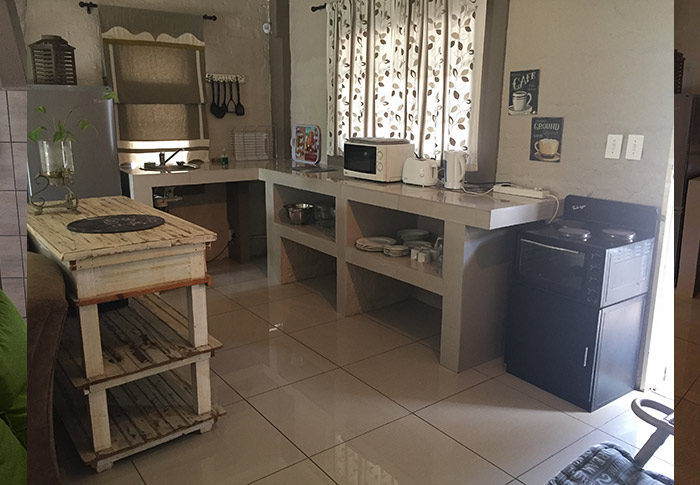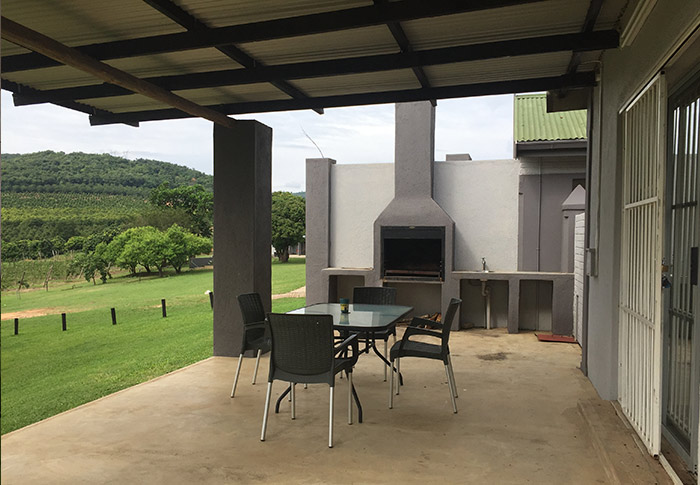 Chalet 1
The Chalets have fully equipped kitchenettes, en-suite bathrooms. All Chalets have their own private verandas with built-in braai's for your comfort and air conditioned for your convenience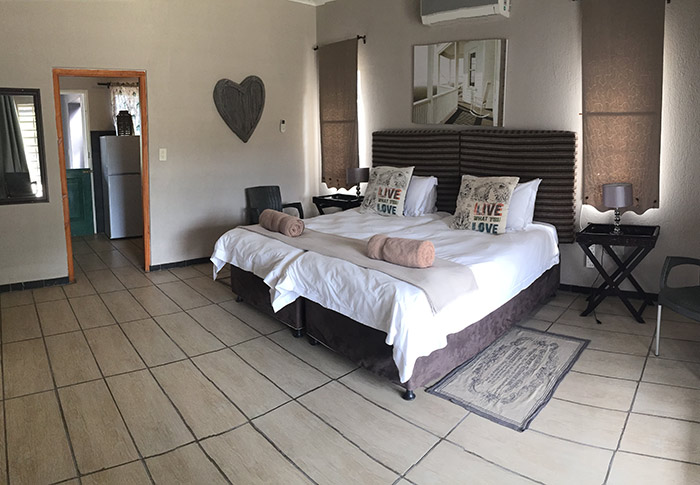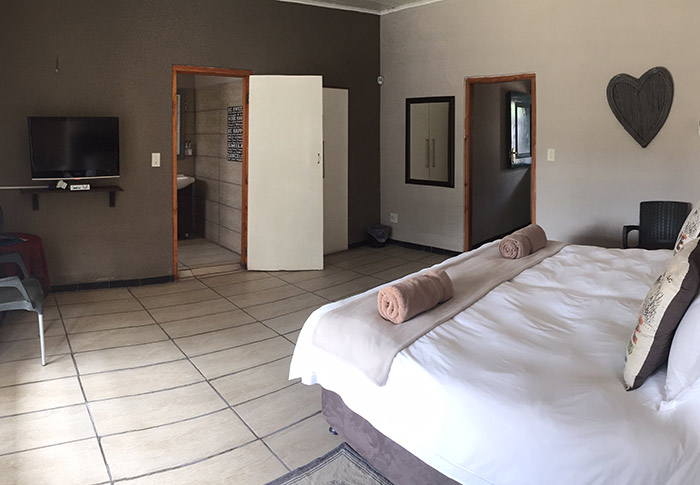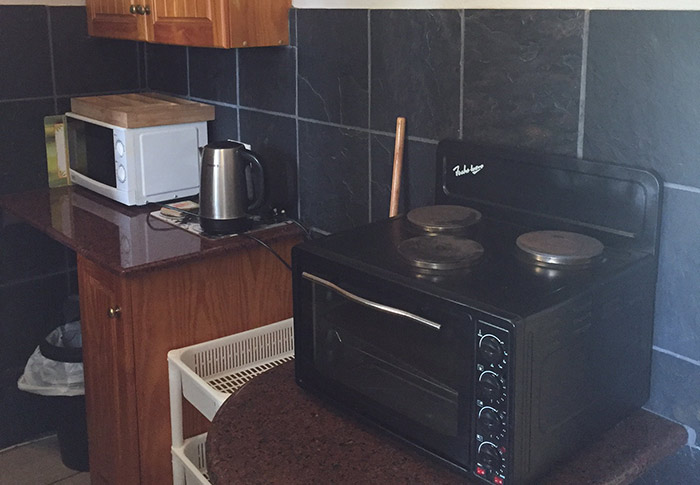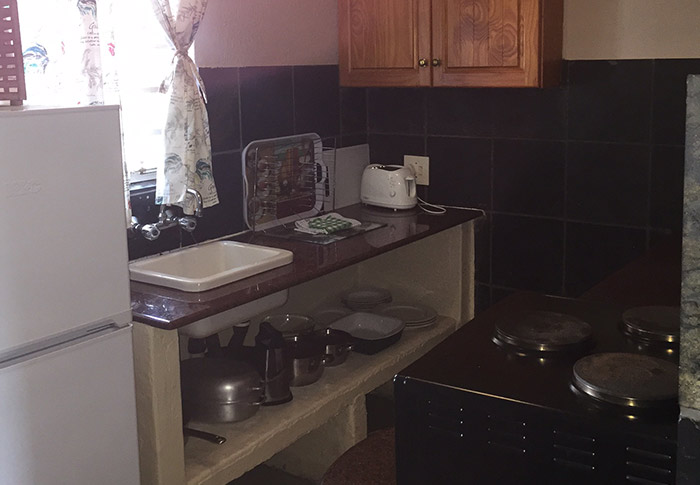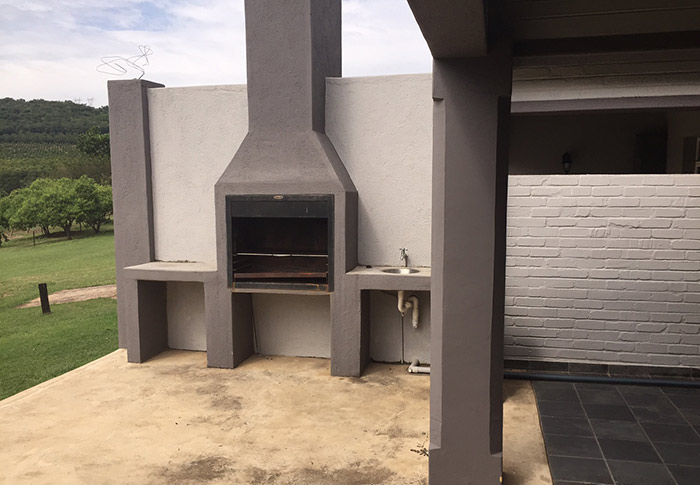 Chalet 2
The Chalets have fully equipped kitchenettes, en-suite bathrooms. All Chalets have their own private verandas with built-in braai's for your comfort and air conditioned for your convenience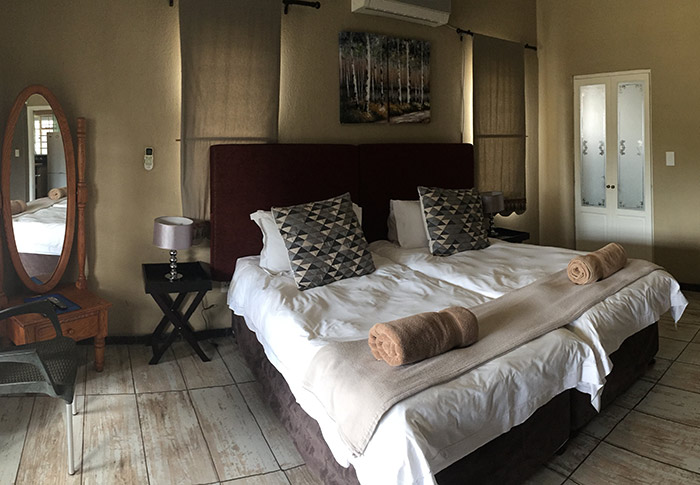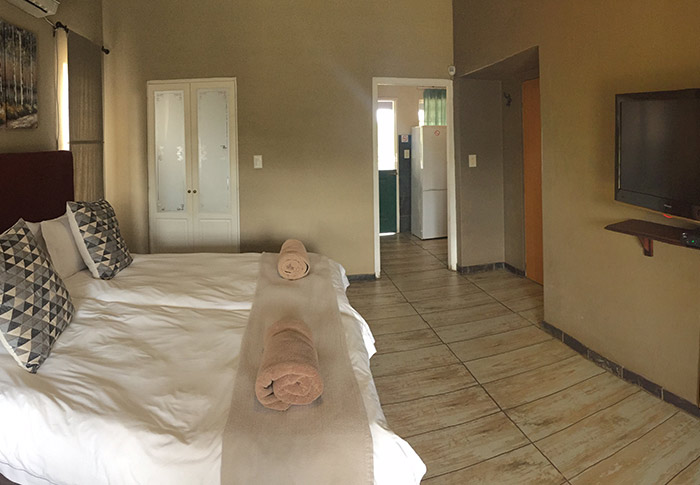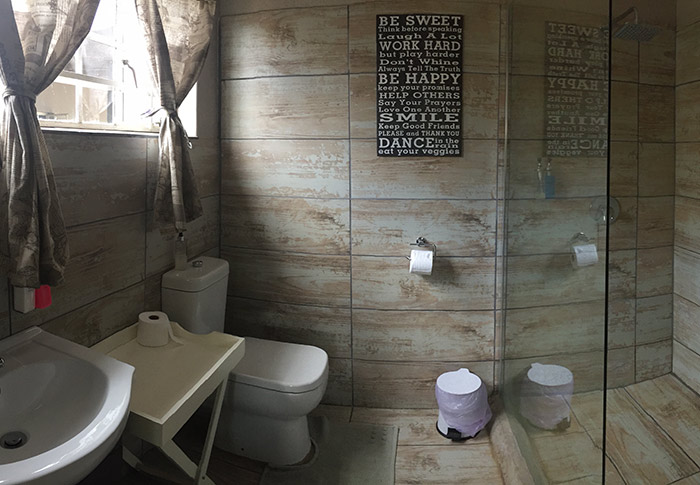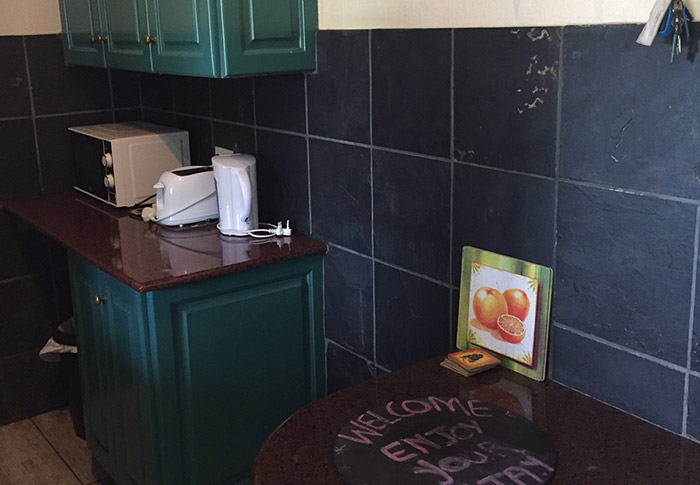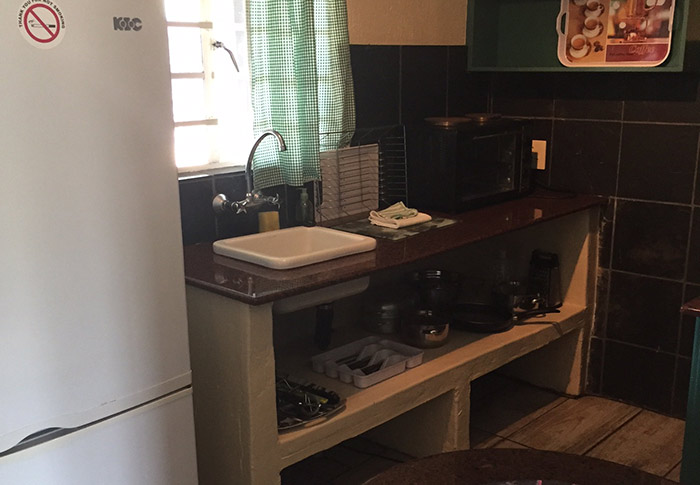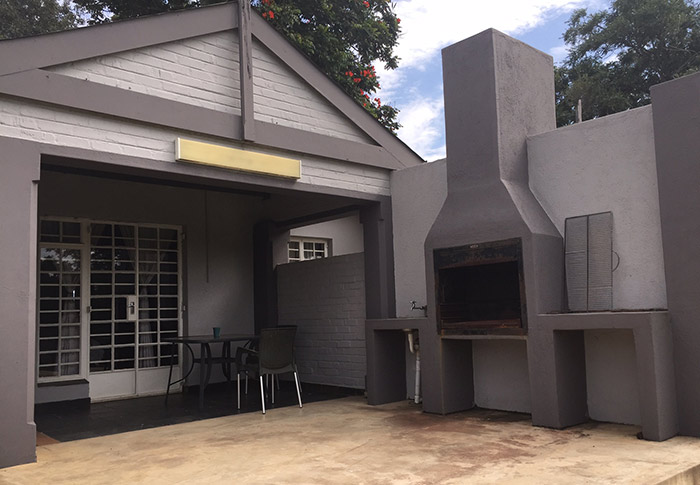 Chalet 3
The Chalets have fully equipped kitchenettes, en-suite bathrooms. All Chalets have their own private verandas with built-in braai's for your comfort and air conditioned for your convenience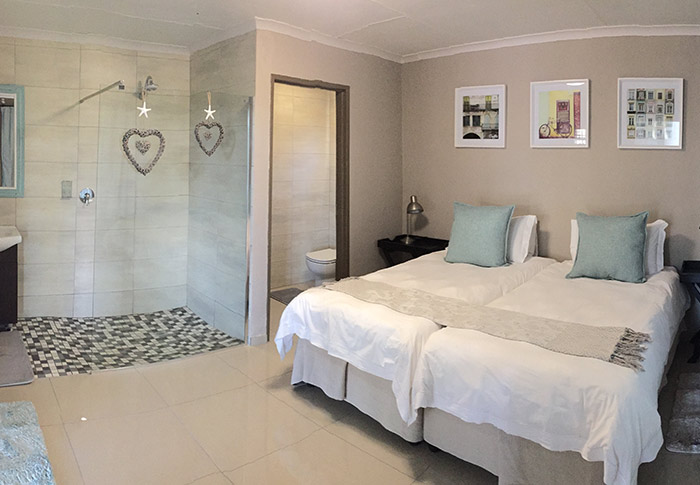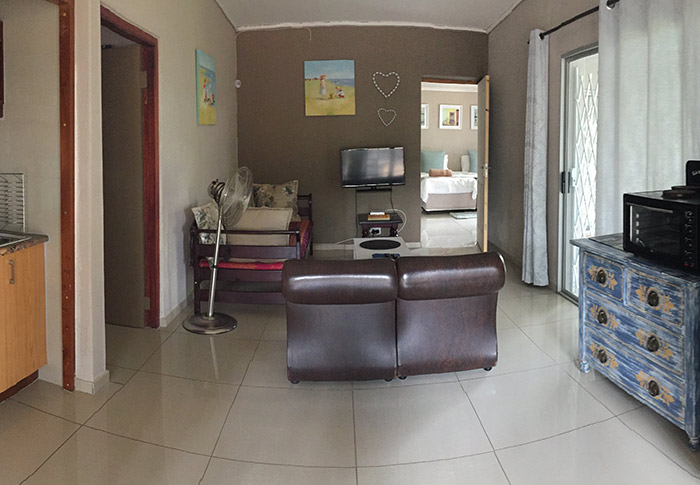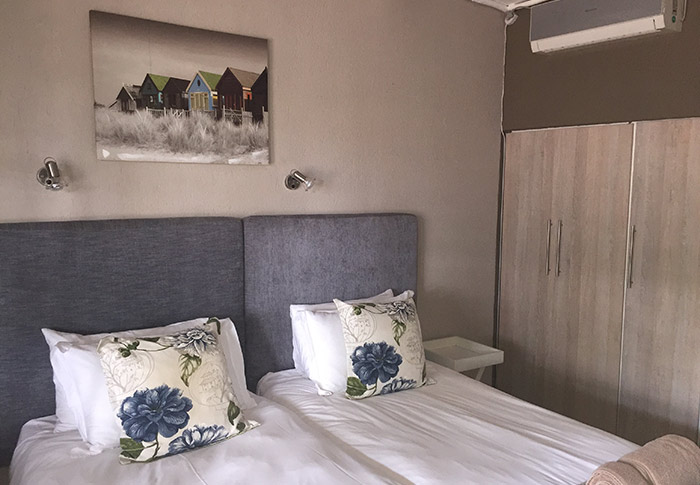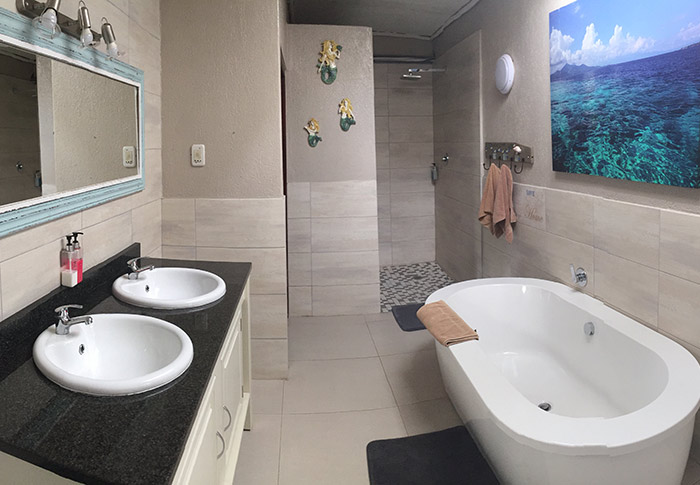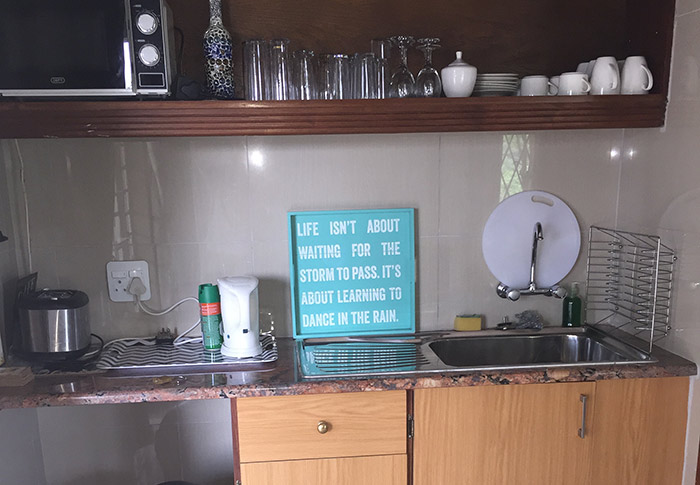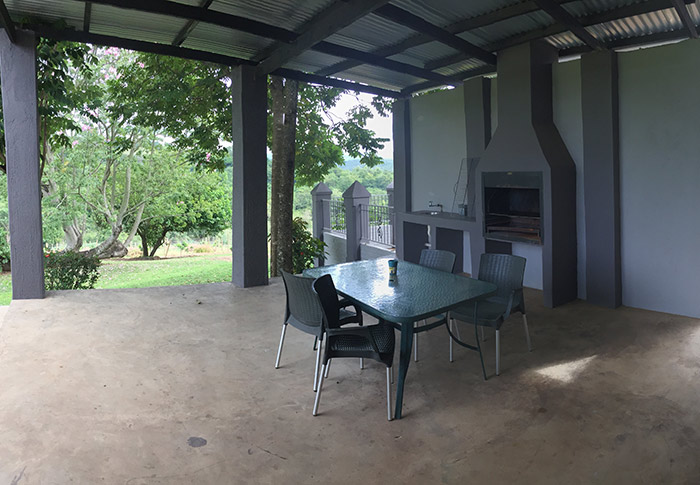 Chalet 4
The Chalets have fully equipped kitchenettes, en-suite bathrooms. All Chalets have their own private verandas with built-in braai's for your comfort and air conditioned for your convenience . Two bedrooms, Two en-suite bathrooms. Small Lounge, kitchenette and a private veranda with a braai area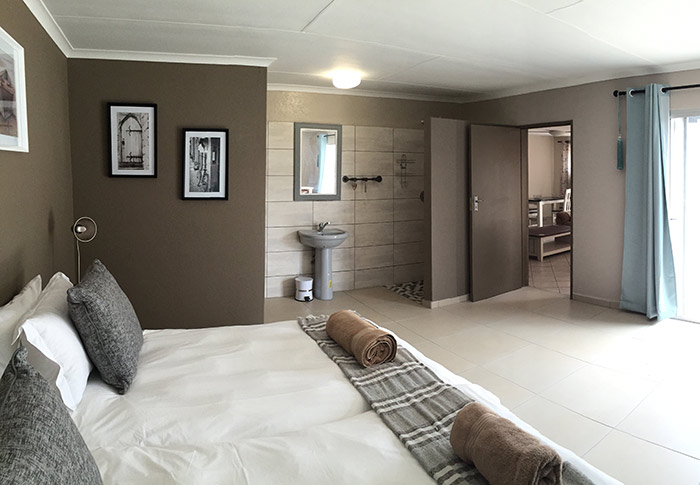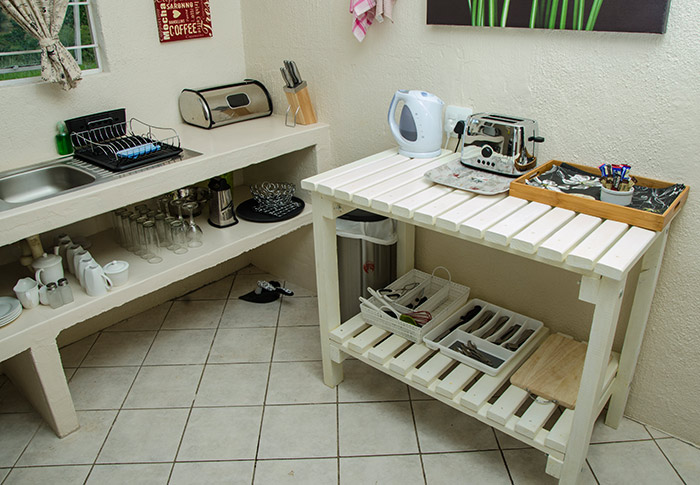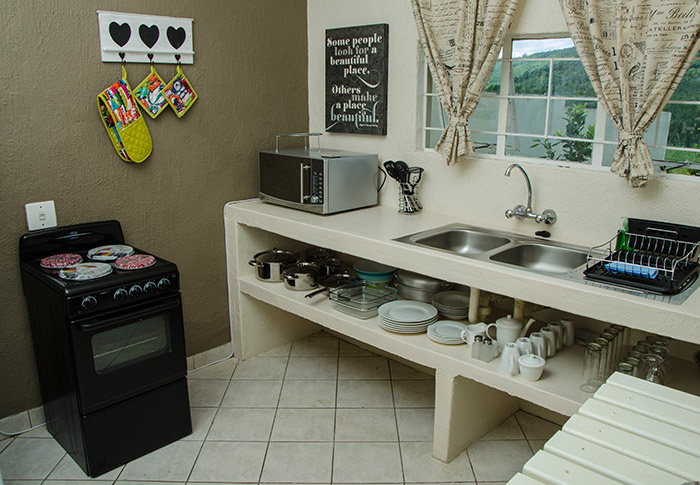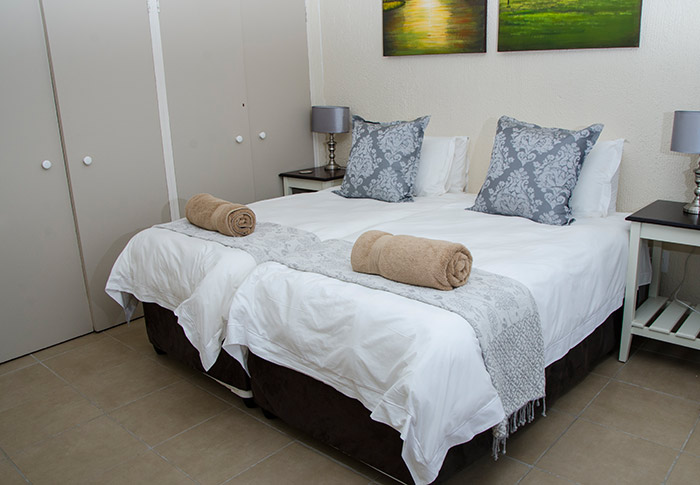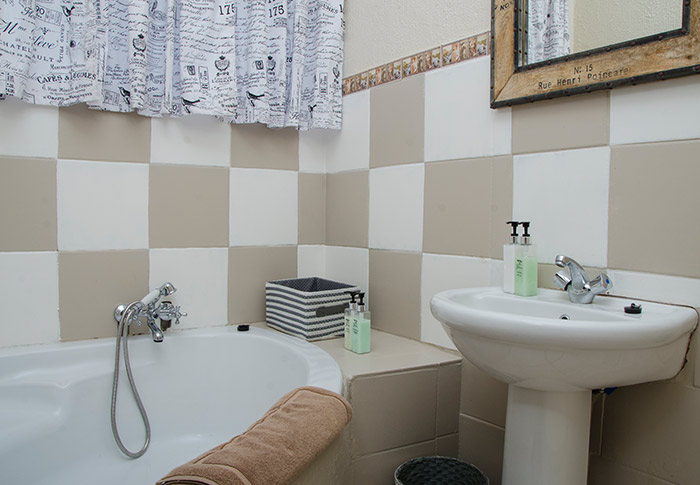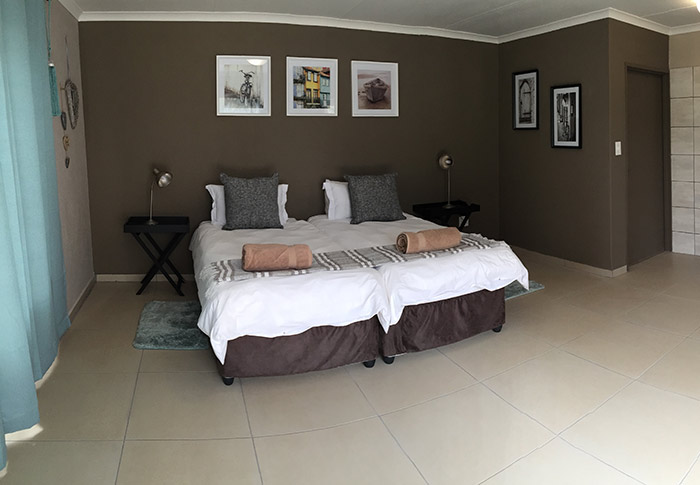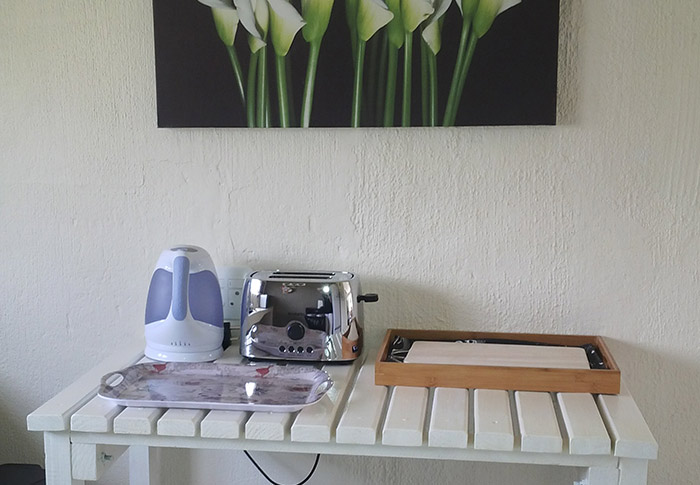 Cottage
Two bedrooms, Two en-suite bathrooms, lounge and dining room area, kitchen and a private veranda with braai area